DO NOT PUBLISH UNTIL REVIEWED AND EDITED BY EDITOR-IN-CHIEF!!!
NOTE TO MANAGING EDITOR: E.I.C. is MIA. Please edit by crossing out appropriate words and phrases. I will now click the "Save Draft" button, which is perilously close to the "Publish Now" button. Thanks, you're a lifesaver!!! – Doc
Historic 2012 Election Concludes with Narrow Obama/Romney Victory
BOSTON/CHICAGO – It was a night to remember for Mitt Romney/Barack Obama, whose second bid for the presidency proved successful at last. After a long, bitter, and expensive campaign, Romney/Obama and his supporters finally had a night to celebrate.
"Tonight, we mark true change/take a great step forward for America!" boasted Romney/Obama in his victory speech. "Tonight, we turn to America's better future, with an eye on compromise, and hearts on our common purpose!"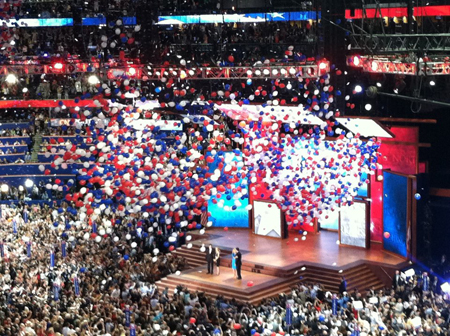 Romney/Obama's supporters were overflowing with emotion, celebrating in city streets from Salt Lake City/San Francisco to Boston/Boston.
Citizens flooded Boston Common/Grant Park to hear Romney/Obama's acceptance speech, many weeping openly.
"This is the greatest day of my life! We are saved!" bellowed a Pastor from Charlestown, West Virginia/Editor from Baltimore. "Finally, M/my country made the right choice again!"
On CNN/Fox News, James Carville/Sean Hannity insisted, "The world is blessed tonight. We just bought ourselves four years of life, and put ourselves back on track to become that shining city on a hill once again. The apocalyptic end of America will be averted."
In Chicago/Boston, it was a starkly different night for Barack Obama/Mitt Romney. His speech was a somber one, reassuring his similarly weeping supporters, "America has chosen, and now is the time to come together to support our President." Several supporters appeared to have loud, shouting mental breakdowns during the speech, and had to be physically removed and mentally evaluated at nearby hospitals.
In some cases, riots broke out, as Obama/Romney supporters reacted with immediate panic to their candidate's defeat.
"I hate this country/liberals!" stammered one Obama/Romney supporter in Chicago/Boston. "They're ruining the planet/country!"
Another supporter seemed even bleaker. "The world is ending on December 21st, guaranteed," she said. "We're going to need a revolution or something. We just can't have this."
Indeed, the Secret Service has already taken preemptive action to stop numerous threats against the President(-elect), though virtually every threat turned out to be an angry eighth grader in his garage/actual large militia with guns and racism.
The most common complaints were widespread accusations of voter fraud in Ohio, Florida, and Colorado.
"Stealing elections is becoming the go-to strategy of the Democratic/Republican party," said Karl Rove on Fox News/Al Sharpton on MSNBC. "How can we respect our President when he just stole four years of office, four years of American prosperity?"
Social networking was ablaze, as Twitter once again smashed its own record with over 20 million tweets in a two-hour period from 10:00 PM to midnight. Obama and Romney's names topped the trending list, followed by the trend "I'm moving to Canada," as a large number of Obama/Romney supporters professed that they would relocate to America's northern neighbor to escape the Romney/Obama presidency.
(Note to Editor – pick one paragraph):
1/2: Republicans scoffed at this sentiment, as conservatives across Twitter responded with a barrage of various insults, from "America-haters" and traitors" to "Communists" and "Terrorists." Even Ann Coulter chimed in: "Liberals running to their salons in Montreal… GOOD RIDDANCE!" she tweeted.
2/2: Democrats scoffed at the sentiment, belittling the despondent Romney supporters with a barrage of arrogant and condescending reality checks. "Canada is way more socialist than America," read several identical tweets. Even Van Jones, briefly Obama's green jobs czar, chimed in. "Enjoy the free healthcare!" he responded via Twitter to one conservative who said he'd already bought a house in Manitoba.
Other immediate changes were evident. Gun sales have skyrocketed/plummeted, as Obama's reelection/defeat has reaffirmed/stifled the fears of gun owners that he would push for more stringent gun control, despite his never moving to legislate on firearms in the United States.
Pundits across the board began talking about the 2016 election, where Romney is expected to seek the office (yet) again. Martin O'Malley launched an exploratory committee, and began plugging the Ohio market with television ads attacking Romney, and Vice President-elect/Congressman Ryan.
"I think Bloomberg/O'Malley has it wrapped up here," said CNN contributor John King. His response to the hurricane/stunning hairline is an insurmountable advantage!"
On Fox News, Greg Gutfeld had a different thought. "I don't see how Chris Christie can lose the 2016 election at this point. No other possible scenario."
By two in the morning, gold had hit $3,000/$5 per ounce, bomb proof bunker lodging had sold out/been abandoned and used for storage for illegal immigrants, and several million Facebook friendships had ended. Indeed, it was an historic night.
Meanwhile, workers continued to work, the wind continued to blow, teachers continued to teach, and the sun continued to rise. The world didn't end. And neither did America.
_____________________________________________________________
Doc Brown contributed to this report. He can be reached at thirstyturtletimes@gmail.com
Follow us on Twitter @thirstytimes, find us on Facebook.