TWENTY-SEVENTEEN: The future arrived in furious fashion in Washington today, after passage of the "Tax Cuts and Jobs Act" by Republican-controlled Congress. Future American taxpayers used social media posts, postcards, and other forms of communication not yet invented to send a simple message back through time to our present day in 2017: #MeToo.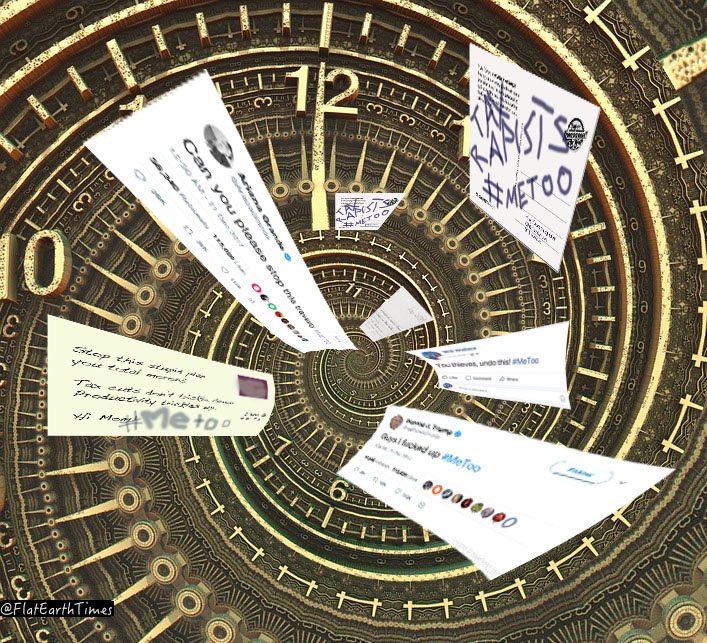 "Why are you passing a tax cut when half your country is nearing retirement?" was written on a postcard dated 12/10/2062, by Delmara Gordon. "Don't you realize how much coin this will cost us? I can't even afford my fealty to Lord Comcast this week, which is why I'm using a postcard. You don't want to know what I had to do for these antique stamps. #MeToo"
It seems humans figured out time travel in the 2030s, and immediately used their new power to reach back in time and accuse the Tax Cuts and Jobs Act of raping their pocket books.
Cards, posts, and messages were received at relatives' houses, newspaper offices, on politicians' social media pages, and magically popped into people's heads, a future technology know as "empasynthizing." Some were quite blunt.
"This is Jerome Davis," said one empasynthizing post from August 2041.  It was sent to every social media user who "liked" President Trump's tax plan boast on Facebook.
"Your tax cut just raped my whole family and our pet tribble. Bitcoin taxes through the roof now. Not even money for tree-simulators. #MeToo"
There were familiar names in the messages as well, including relatives of Republican Senators and Congressmen who helped pass the bill yesterday.
"So yeah, great-great-grandpa, it was real cool o' you to make so much money off that bill and give Gam-gam that private jet that was untaxed," wrote Nessie Corker, a 19-year-old, in an email to the office of Senator Bob Corker (R, TN) dated from A.D. 2052. "But without any money for defense, diplomacy, or infrastructure, the Chinese took over global commerce and made us convert to metric, and now no one can fly it. Our dignity is gone, and the taxes are abusive. #MeToo, 再见,我爱你"
One taxpayer, Michelle Jackson, was able to call The Flat Earth Times from A.D. 2104 and make a brief statement before being chased away from the phone-temple by a pack of Bernese Sanders Mountain Raiders.
"We were able to survive just by eating Trumps for a while, since they're so fatty," she said.  "But now there's even a tax on cannibalism. #MeToo."
A flock of Deficit-Crows contributed to this report.  They can be reached in 2017 at theflatearthtimes@gmail.com