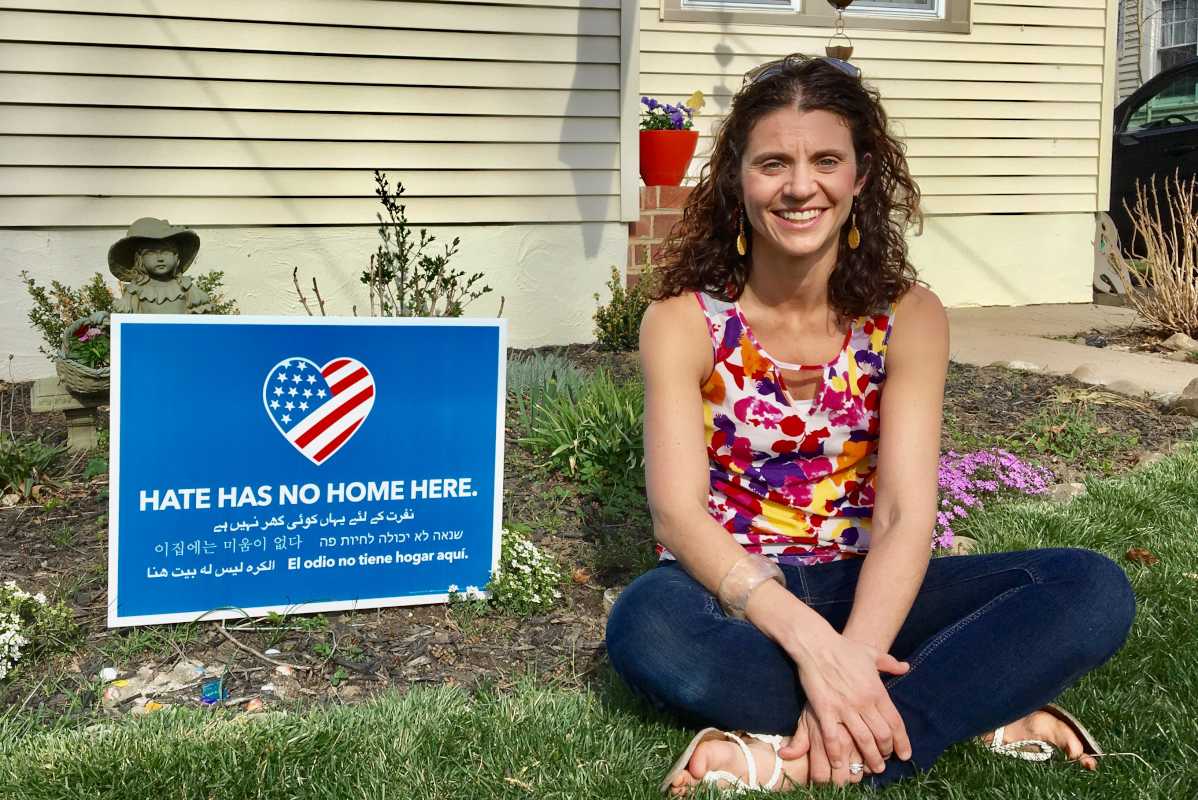 MONTCLAIR, NEW JERSEY – In this affluent suburb of New York City, Karen Philipelli is ready for the 2018 midterms.
"This isn't my first rodeo," smirked Mrs. Philipeli, looking at her new "HATE HAS NO HOME HERE" sign, then glancing at the 'Hillary/Kaine '16' sticker in the glass pane of her large oak door. "Donald Trump, we want you to know, your hatred and your policies are not welcome in THIS HOUSE!" she screamed, to no one in particular.
Her neighbor, Kenneth Sevansky, a supporter of President Trump, glanced briefly at the sign before closing his shades, muttering to himself about "liberals and their strawmen."
Mrs. Phillipeli, feeling slightly chilly, then walked inside to turn on her robust central heating system. Walking past her large mahogany mantelpiece and $8,000 painting of an African family, made by a white woman from Iowa, she sat down at her $3,000 computer. Now at least two miles away from the nearest African-American, she went on Facebook to publish a rant in a group of 3,000 other liberals about President Trump's possibly underreported obesity.
Mrs. Phillipeli's new yard sign joins an older one she placed in October, reading, 'IN THIS HOUSE, we believe,' followed by a list of basic left-of-center bumper-sticker philosophies such as 'science is real,' 'black lives matter,' and 'kindness is everything.'
A young Democratic volunteer canvasser then came and knocked on her large oak door, urgently seeking donations to help the party's narrowing midterm polling advantage. Mrs. Philipelli angrily slammed said door in the young girl's face, saying "I don't get involved this way!"
Returning to her computer, Mrs. Philipelli deleted all received emails requesting she volunteer or donate in neighboring Pennsylvania's nail-biter special election for a tossup US House seat. As soon as she was done deleting fundraising emails from groups trying to stop oil drilling off the coast of New Jersey, Mrs. Philipelli finally found time to ignore any emails suggesting she call her legislators and request they oppose heavy rollbacks of Dodd-Frank regulations designed to prevent financial crises.
"Can't wait for the next Women's March!" she began to write in a new Facebook post, before pausing to reflect on the one hour of marching she did in 2018 and, for the first time, wondering if she came up short.
"What if everything I did was just emblematic and meaningless?" she thought. "What if I hadn't changed a single mind in that Facebook group? Maybe being so rude to that little canvasser is part of the societal disconnect that feeds paranoia and gives us horrible politicians… and maybe something… tangible… something of value… something more than Facebook posts – are actually what can help us win."
Mrs. Philipelli then added the hashtag "#resist" to her post, and hit the 'submit' button at last with a sense of smug satisfaction.
"Another day closer to ending this regime!" she said.
Your clueless aunt contributed to this report.  She can be reached at theflatearthtimes@gmail.com
Follow us on Instagram and Twitter!